It is an exception these days to find a business that does not employ a computer in at least some aspect of its recordkeeping function. The cumbersome, inflexible and expensive modular software packages we knew in the 1980's are losing ground to a new generation of powerful, inexpensive and revolutionary products.
With the advance of these user friendly applications, the fear of the unknown has given way to confidence and optimism in the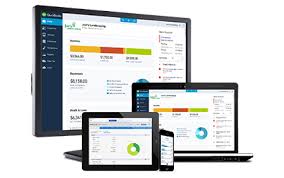 business community. Unfortunately, many public accounting firms have long viewed the computer age as a threat to business as usual. At Moorhead Patterson & Company, PC we view these changing times as both a challenge and an opportunity.
We began processing general ledgers and tax returns using in-house computers long before the first PC's were conceived. Over the past 15 years our staff has assisted numerous businesses in the installation, training and maintenance of a wide range of accounting software. While we do urge caution to any client who wishes to begin maintaining a general ledger internally in the absence of experienced accounting staff, we are more than willing to play an active roll in assisting you in the selection and implementation process.
Additionally, Moorhead Patterson & Company, PC is a licensed distributor of software products from Creative Solutions, Inc. CSI is a widely known and highly regarded software vendor in the public accounting community. Initially catering to public accounting firms in the early 1980's, CSI branched into in-house business software and recently has developed a product called Accounting CS. Accounting CS provides many of our clients with the ability to write checks, record deposits, process payroll and track accounts receivable and payable culminating in a seamless electronic transfer of data to our general ledger software.
Whichever route your firm wishes to take, Moorhead Patterson & Company, PC has the experience to assist you in your decision.